North American Center for Marianist Studies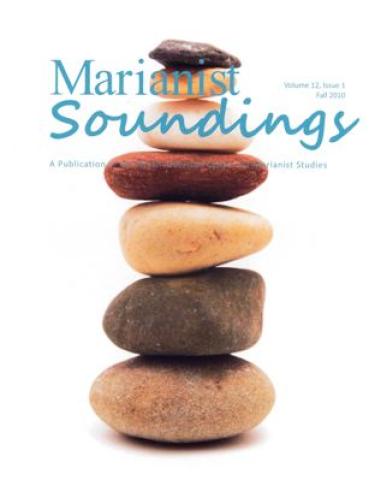 Are Marianists part of a Social Movement Organization? Explore this edition of "Marianist Soundings," which has a focus on the laity, and decide for yourself. (Articles by Carol Ramey and Alexander P. Orlowski.)
To read the full copy of text, click on the pdf file below. The Editor's Note has been included here to whet your appetite for the wisdom contained in this issue of Marianist Soundings.
Editor's Note
Words have the ability to paint beautiful pictures that brings connection in life: a greeting card that pulls at the heartstrings, the first "I love you" of a lover to a beloved, or the heartfelt "I'm sorry" that transcends a simple two-word phrase.
Words, when properly used, add value and meaning to our lives and our world. Our Blessed Founder, William Joseph Chaminade, was so aware of this that his System of Virtues begins by examining words.
Yet, it also can be true that to put something into words is to limit its potential, to either undervalue the depth of meaning or to provide a framework too broad in scale. Perhaps this is even true of the endearing phrase "the Marianist Family" to describe the interconnection of ordained, lay, and vowed religious inspired by the Marianist Founders under the banner of Mary.
This issue of Marianist Soundings, which includes an emphasis on Marianist Lay Communities, explores the phrase "Social Movement Organization" (SMO) as it relates to all within Marianist life. This phrase has been floated as an alternative metaphor to the term "Marianist Family."
For more on SMOs, read Carol Ramey's article "Importance of Lay Leadership in the Marianist Movement" and Alexander P. Orlowski's "Overflowing Obstacles: The Social and Civic Engagement of Marianist Lay Communities."
So after digesting their words, decide for yourself if Marianist life today is more a model of "Family" or a "Social Movement Organization." Or, perhaps it is a paradoxical both/and that sometimes is found in Church matters?
What is clear is that we must analyze Marianist words over time to probe the depth of their meaning. This Marianist Soundings offers such a moment.
Daniel M. Jordan
Editor