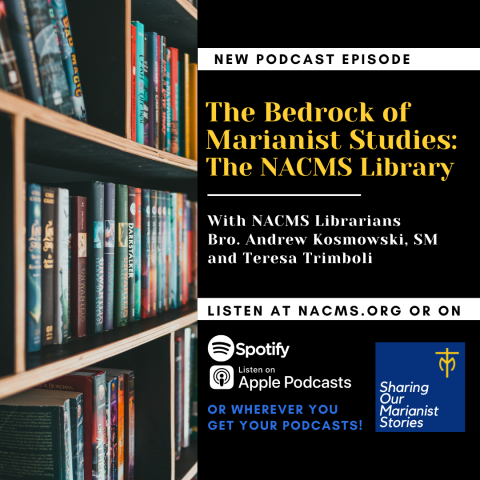 Patti Gehred and Gabby Bibeau are excited to share this interview with Brother Andrew Kosmowski and Teresa Trimboli, who are the very talented (and very hard working!) librarians at NACMS. Listen to them talk about the history of the library, its importance for Marianist studies, and share some fun facts about rare items in the collection.
Send your reference questions to Brother Andrew or Teresa by emailing them: 
kosmowskia1@udayton.edu and trimbotz@udayton.edu
Available on nearly all podcasting apps, our YouTube Channel, and through the embedded podcast player below.
Recorded on 16 November 2022. Published on 6 March 2023. Hosted by Patti Gehred and Gabby Bibeau from the North American Center for Marianist Studies (NACMS). Editing by Gabby Bibeau. Music: "Travel Light" by Jason Shaw (used with permission via Creative Commons License; see more of his work at http://audionautix.com/).