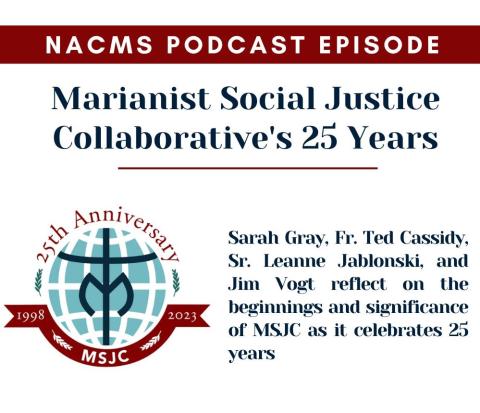 This special episode is a joint production between NACMS and the Marianist Social Justice Collaborative (MSJC) who is celebrating their 25th anniversary this year. This podcast is a recording of a Zoom conversation that took place between MSJC Director Sarah Gray and three people who were present at MSJC's foundation: Sr. Leanne Jablonski, FMI; Jim Vogt; and Fr. Ted Cassidy, SM. These three Marianists reflect on the origins of MSJC, its accomplishments over the years, and how it has been a model of collaboration in the Marianist Family.
For more information, explore the NACMS website or MSJC's website at marianistsjc.net
Available on nearly all podcasting apps, our YouTube Channel, and through the embedded podcast player below.
Published on 28 July 2023. Hosted by Gabby Bibeau from the North American Center for Marianist Studies (NACMS). Editing by Gabby Bibeau. Music: "Travel Light" by Jason Shaw (used with permission via Creative Commons License; see more of his work at http://audionautix.com/)